It is that time of the year again!
Members of the Church of Jesus Christ of Latter-day Saints are busy serving their communities under the banner of Mormon Helping Hands Program. Communities are being beautified, lives are being saved and friendships are being created as members find time to use their skills and talents to bless the lives of others and the communities in which they live in.
Recently, members helped in filling some potholes along the Manresa road in Mabvuku –Tafara area and a small pathway parallel to Chiremba road in Queensdale area. Women, men, youths and children all participated in different peculiar ways. This initiative was also supported by the Harare City Council by providing materials to patch the potholes.
Speaking at the side-lines of the event, Bishop Akili of Mabvuku-Tafara Ward stated that the world is full of people constantly chasing for happiness, but never attaining it. "Often times, they search for it in all the wrong places. Service is the answer," he said.
Nigel Lipenga, a member of the Church from the Queensdale Ward concurred and added that true happiness is a choice and not a reaction to present circumstances. "Our search for happiness need not to be hard, expensive or (dictated) to by circumstances. Happiness is not a destination nor is it reliant upon the acquisition of something new or something different. It is a feeling. A feeling of satisfaction, of joy, of peace, of love, of charity of gratitude; a feeling that money and material things can never buy," he said.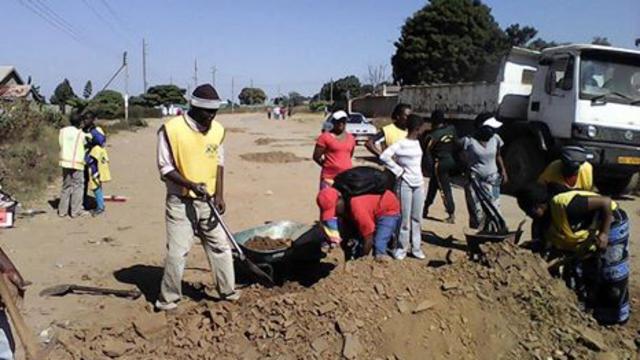 Every year members of the Church, under the banner of Mormon Helping Hands, partner with local community members in beautifying communities, volunteering their time, talents and skills to serve.
The Church encourages members to find opportunities to serve as a way to emulate The Lord Jesus Christ, who is the epitome of love and kindness.
President Gramu of Harare East Stake said: "What a wonderful thing it is to serve others in this day and time when the practice of service has slipped from many lives. Things are hard and are increasing becoming tougher with many people concerned with their lives and those of their immediate families only; but you can find joy in serving others."